Sugaring

Why Choose Sugaring? We use an all natural sugaring paste to remove hair from the face and body. It is safe for delicate areas of the skin such as the bikini area, face, and under arms. When the paste is applied to the skin, it molds around each hair, and when paste is removed, the hairs and all dead skin cells are removed leaving your skin smooth and soft. This reduces hair breakage, in-grown hairs, bruises, and redness.
Sugaring paste:
• Simply made from sugar, honey, water and lemon juice with NO harmful chemicals;
• The paste is warmed to room temperature (will not burn the skin);
• Dissolves easily in water;
• Does not stick to live skin cells, only removes dead skin cells and hair; and 
• Removes hair as short as 1/16″; and
• The hair grows back finer and more slowly.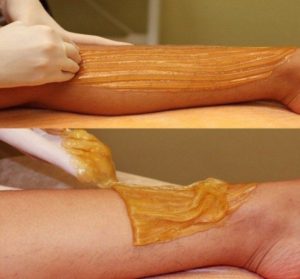 Services

| | | | |
| --- | --- | --- | --- |
| Sugaring | For Her | For Him |   |
| Eyebrows | $20 | $22 |   |
| Lips | $17 | $17 |   |
| Chin | $25 | $35 |   |
| Sideburns | $17 | $27 |   |
| Full Face | $50 | $65 |   |
| Full Arms | $80 | $90 |   |
| Half Arms | $45 | $55 |   |
| Underarms | $30 | $40 |   |
| Full Legs | $100 | $130 |   |
| Half Upper Legs | $55 | $65 |   |
| Half Lower Legs | $60 | $70 |   |
| Stomach | $20 | $25 |   |
| Bikini (Basic) | $50 | $60 |   |
| Bikini (Tight) | $60 | $70 |   |
| Buttock | $30 | $45 |   |
| Brazilian | $95 | $115 |   |
| Body Excluding Back/Chest/Stomach | $340 | $400 |   |
| Full Body Excluding Face | $430 | $495 |   |
| Full Back & Shoulder, Neck |  $70 | $120 |   |
| Back |  $40 | $80 |   |
| Chest |  $45 | $70 |   |
Sugaring